Debian is a versatile and widely used Linux distribution that is known for its stability, open-source principles, and large software repository. Its flexibility and the availability of a vast software repository make it adaptable to a wide range of applications and user preferences. Consequently, its commitment to open-source principles and a strong community contribute to its widespread use in various domains. In this tutorial, I will show you how to install Debian (Bookworm) on your computer step by step.
Requirements for Installing Debian 12
RAM: 2 GB or more.
CPU: Dual-core processor of minimum 1GHz clock speed.
Storage: At least 20GB of disk space.
USB drive: 8 GB or above.
Ensure you have a backup of your important files while replacing your current OS with Debian, to prevent data loss.
Install Debian 12 on Windows/MacOS
The process of installing Debian on Windows or any other OS comprises four fundamental steps. This includes downloading a Debian ISO file, making a bootable device with the ISO file, installing the OS, and finally post-installation setup.
To install Debian 12 on your computer easily, follow the below steps:
Step 1: Download the Debian ISO File
After backing up data, the next step is to download 64-bit installer of Debian iso file from the official website. But if your computer has a 32-bit CPU, download the 32-bit installer of Debian.

Step 2: Create a Bootable USB Drive
To create a bootable USB drive of the ISO file, use Etcher which is a free and open-source application. First, Install Etcher on Windows or MacOS. After installing Etcher, open it and select "Flash from File".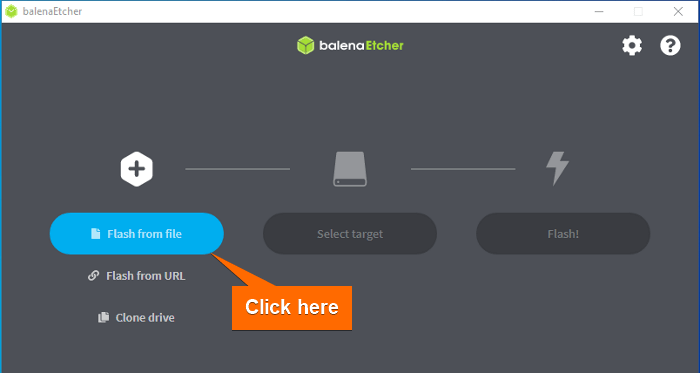 Then, select the ISO file from the location you've downloaded.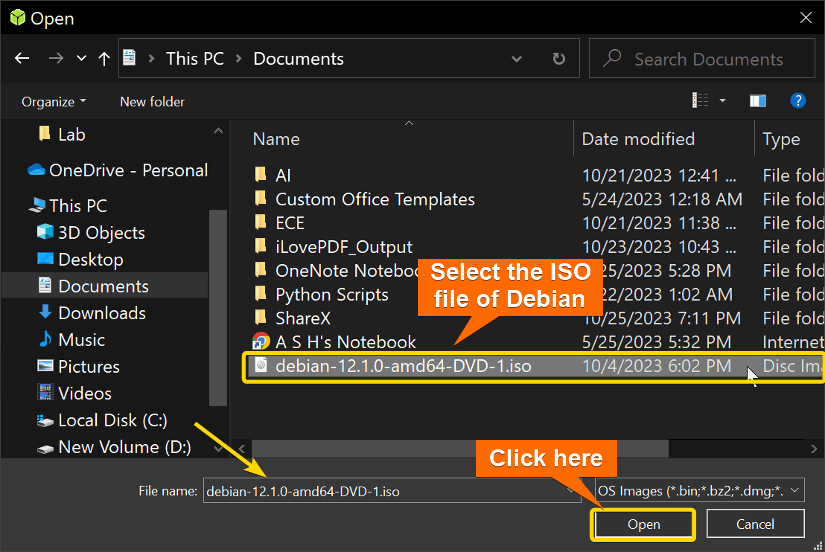 Now, plug in your USB pen drive to the PC and click on Select target.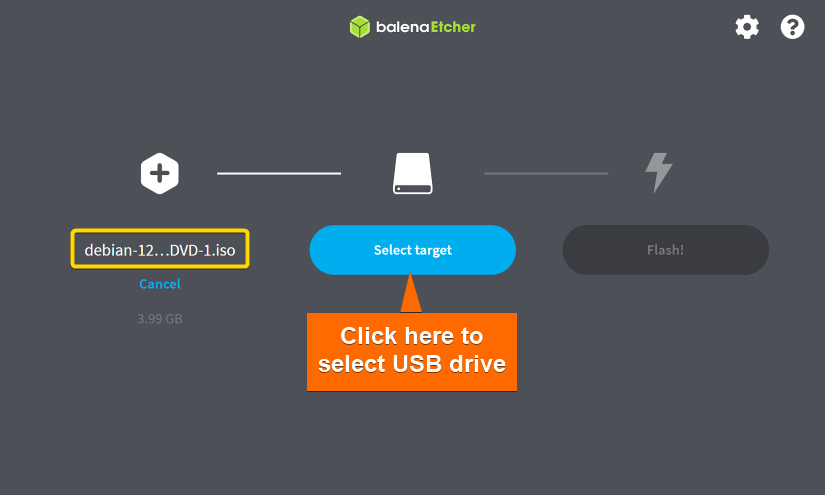 Select your USB drive from the list shown.
Finally, click on Flash to start flashing the ISO file into the USB drive.
After that, Etcher will flash the ISO file into your USB drive and make it bootable.
Step 3: Boot Debian from USB Drive
To boot Debian from the USB drive, at first plug the bootable USB drive into the PC where you want to install Debian. Then, turn on/Restart the PC. It will automatically launch the boot window like this.
To launch the setup window manually,  restart your PC and press the BIOS key according to your device. F12 is the most common BIOS key, but ESC, F2, and F10 are alternatives for some devices. For macOS, hold down the COMMAND(⌘) + R keys immediately after turning the screen on.
Use the RIGHT arrow key to navigate to Boot. Then, use the DOWN arrow keys to set the cursor on CD-ROM Drive.
Now, use the + key to move the CD-ROM Drive option upward. The final boot sequence will look like:
Select "Yes" and press ENTER.
Now, the install window will appear on the screen. Use the UP and DOWN arrow keys to navigate the menu. It will automatically choose the last option by default after a few seconds that might be inappropriate for you. So, select "Graphical install" and press ENTER without delay.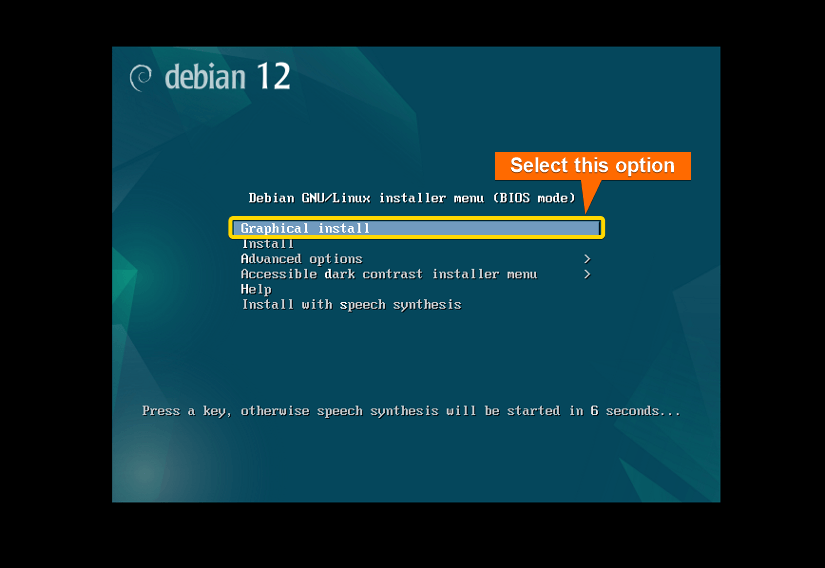 Step 4: Select Language
Select a language according to your preference and click on Continue.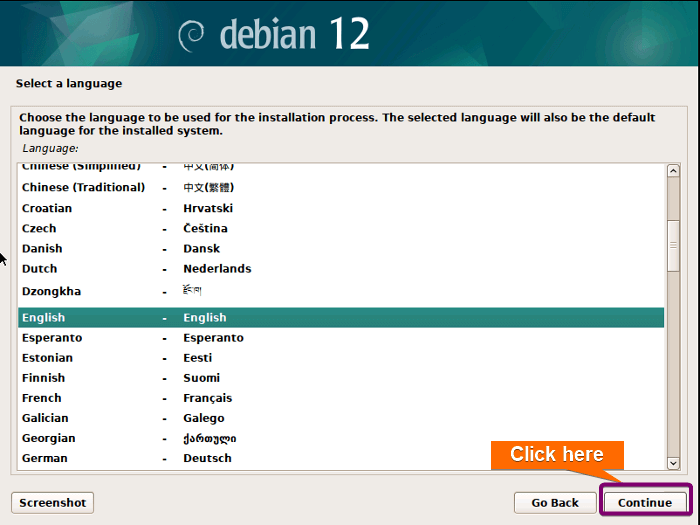 Step 5: Select Location
Select your location. You can select "United States" if you don't see your country in the list.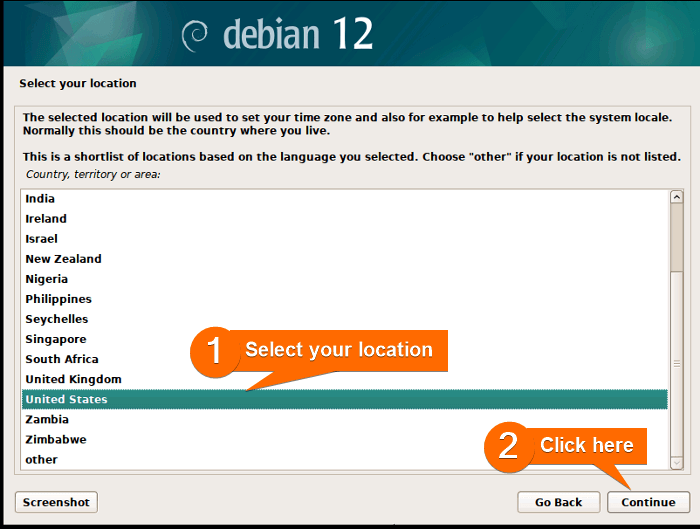 Step 6: Configure the Keyboard
Select the keyboard layout from the Configure Keyboard window according to your preference. Then click on Continue.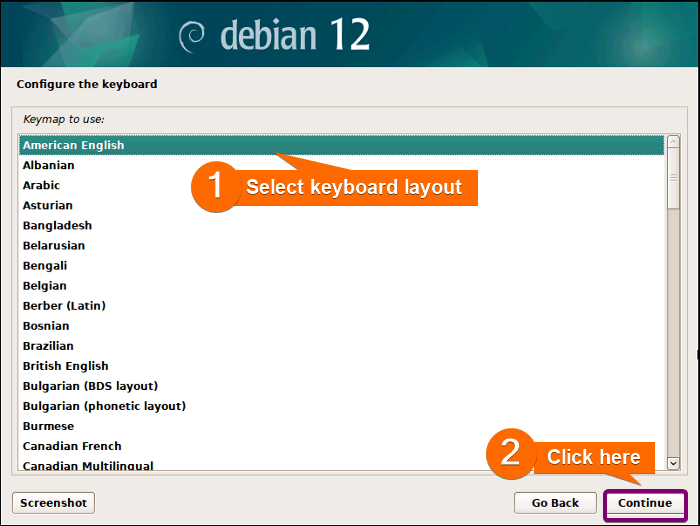 Then, it will load installer components from the installation media. After this automatic process, network configuration window will appear.
Step 7: Configure the Network
Type a hostname for your Debian system and click on Continue. The hostname should be a single word.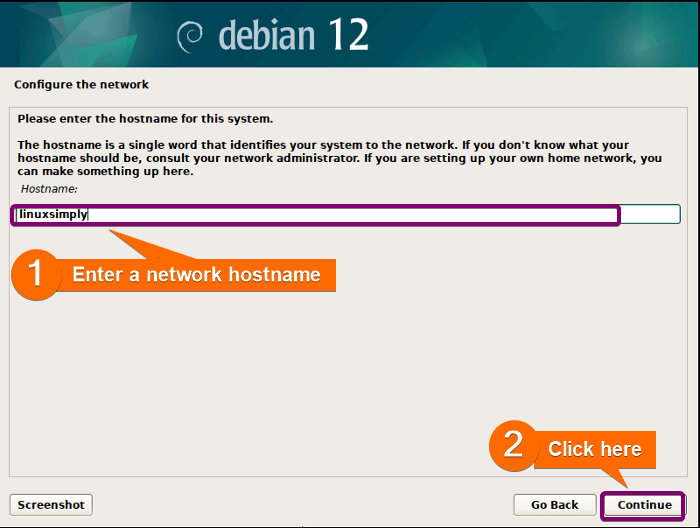 Then, type a domain name for the network. It is the part of your internet address that appears at the right of your hostname. Click on Continue to move to the next step.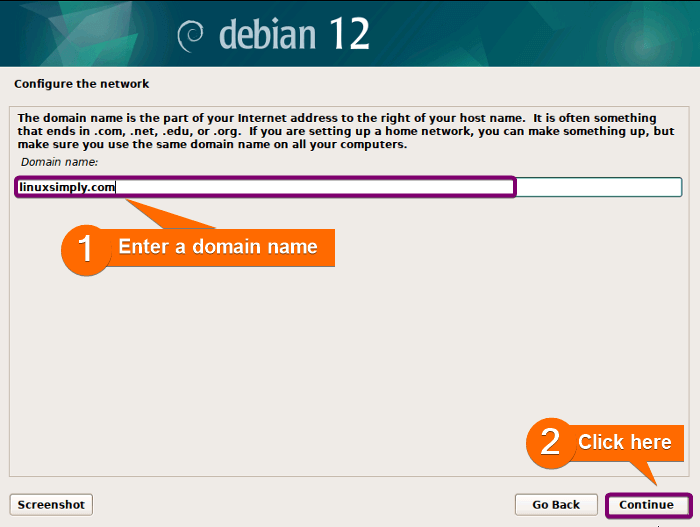 Step 8: Create User Credentials
At this stage, you have to create user credentials such as username, password, and root password. To create user credentials in Debian first, create a root password for the root user and click on Continue.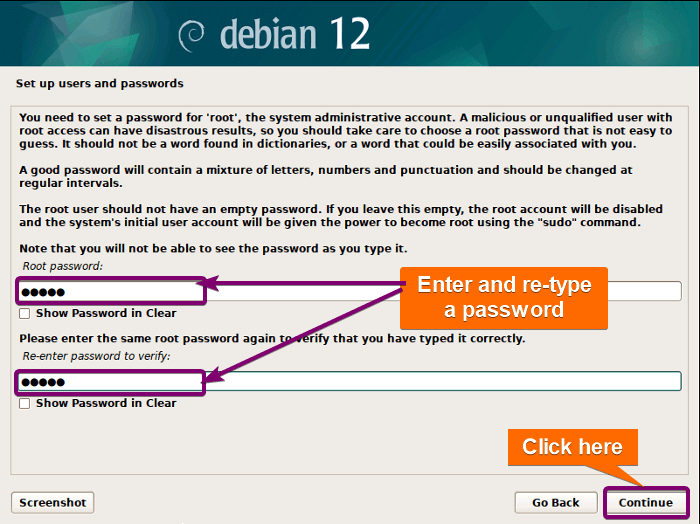 Now, enter your full name and click on Continue.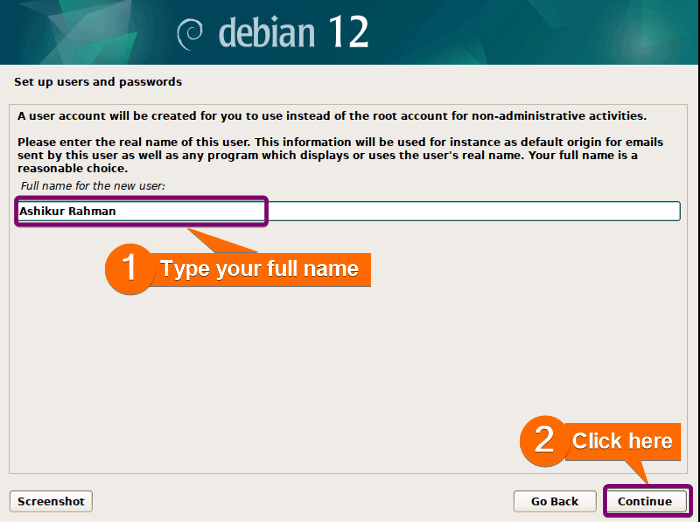 Then, type a short username for your system. By default, it will take the first name from your full name. However, you can keep that or edit it. After that, click on Continue.
Finally, set the user password. This password will be required every time you turn on the PC. So, use a strong and mnemonic password. Finally, click on Continue to move to the next step.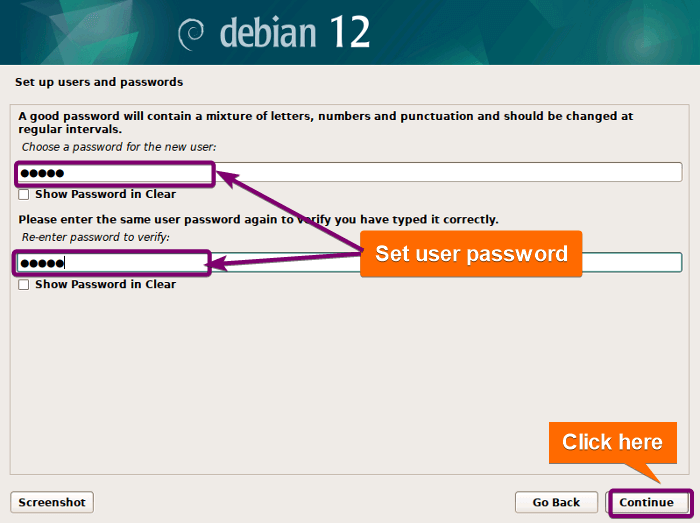 Step 9: Configure the Clock
Select your time zone and click on Continue.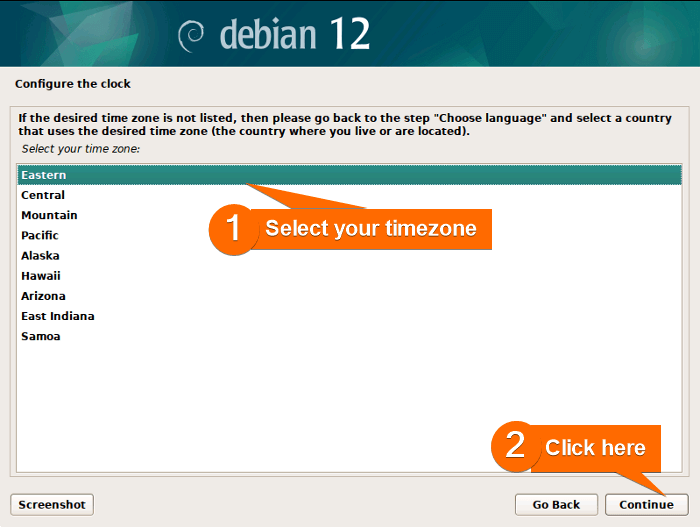 Step 10: Set up the Disk Partition
When installing Debian, it's important to create appropriate disk partitions to ensure the operating system functions smoothly. To partition the disk, select 'Guided-use entire disk'.
Then, select the disk that appears for partitioning and click on Continue.
Warning: It will erase the disk of your current system and install Debian in your system. Make sure you have a backup of your important files before proceeding to the next step.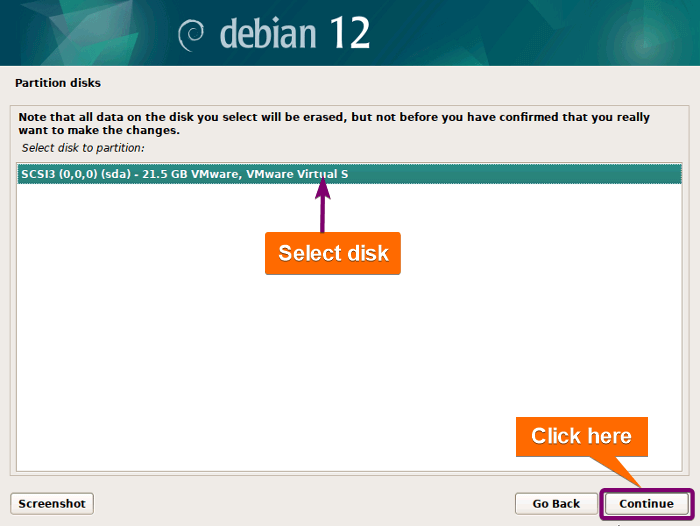 Choose "
All files in one partition
" as a partitioning scheme.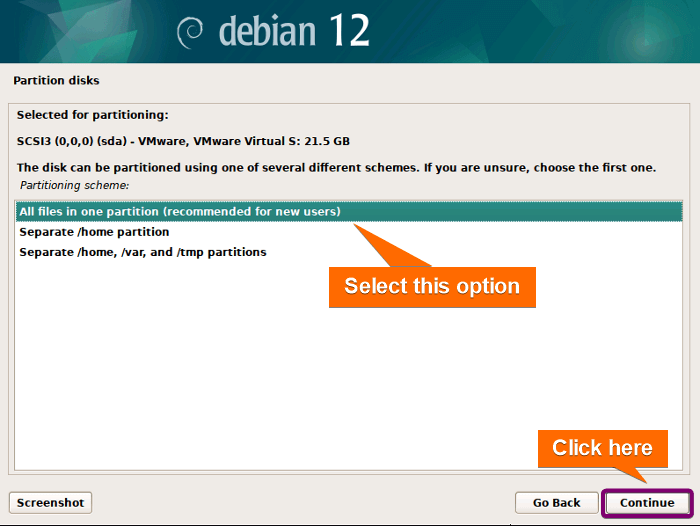 A prompt will show the summary of the
configured partition.
Click on
Continue
.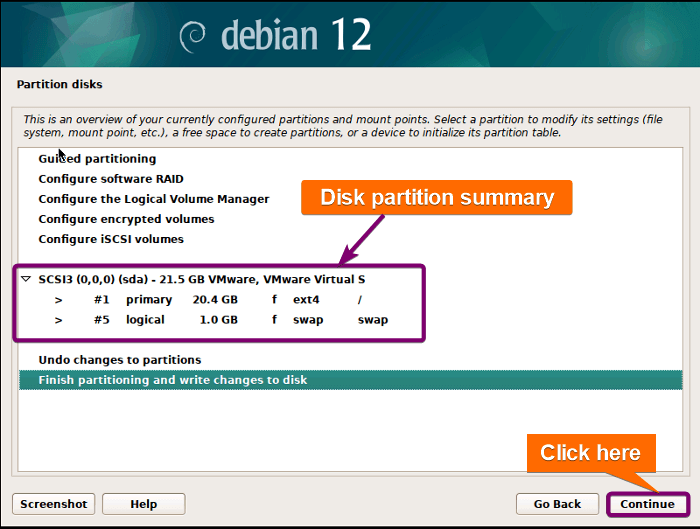 Check the "
Yes"
option and click on
Continue
to confirm
writing the changes to the disks
mentioned in the prompt.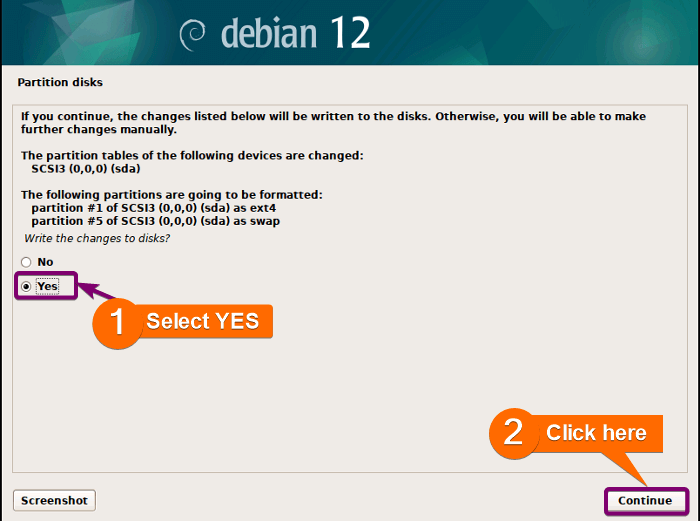 Then
installation of the base system
starts and the screen appears like the image below. It will take some time. So wait for a while.

Step 11: Configure Package Manager
For faster installation, select "NO" and click on Continue.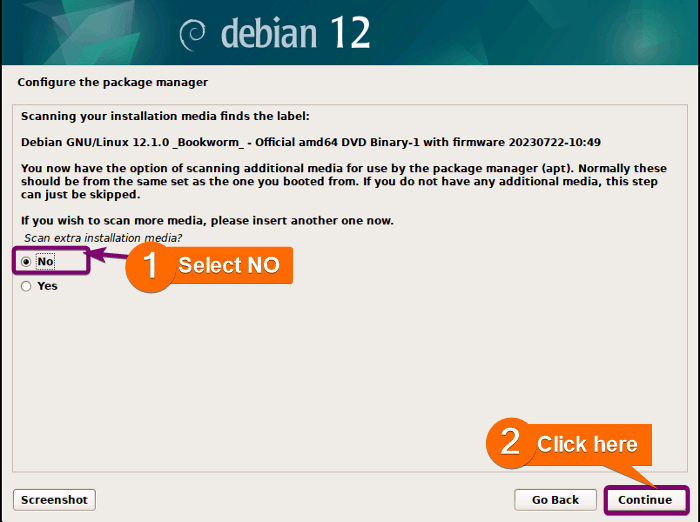 Then it will take some time to retrieve files for software installation.
Step 12: Software Selection for Installation
At this point, select the software you want to install while installing Debian. I've selected the software for installation as the below image shows.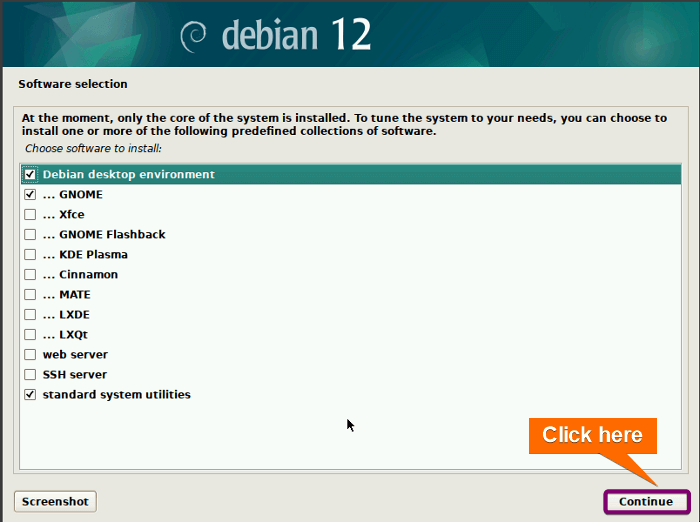 After a little time, all the checked software will be installed in your Debian system.
Step 13: Install the GRUB Bootloader
To install the GRUB bootloader, check the "Yes" option in the confirmation window and click on Continue.
Next, select '/dev/sda' as the boot loader device to install GRUB and click on Continue.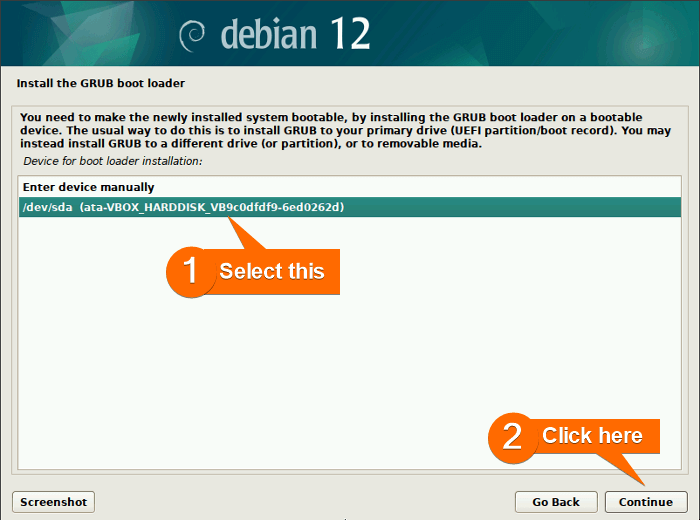 After that, it installs GRUB and starts to finish the OS installation.

Finally, reboot your computer by click on continue after finishing the installation.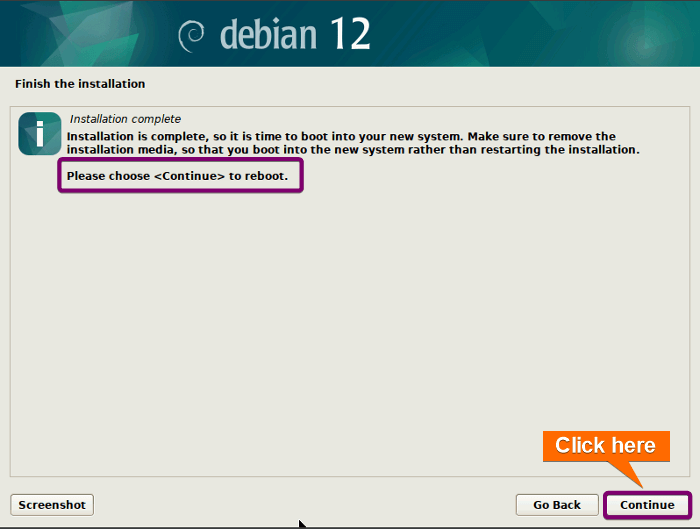 Step 14: Post Installation Setup
After rebooting, a login prompt appears. Type your password and press ENTER to Log In.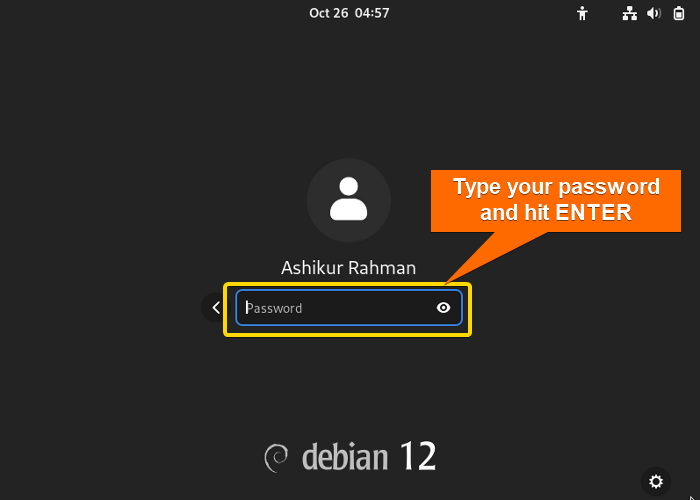 After logging in, there are a few setups that remain to do for getting a better user experience. The first window will show the system language. Click on Next.
The next window shows that the system is going to set the keyboard layout that was selected during installation. You can change it if you want. Otherwise, click on Next.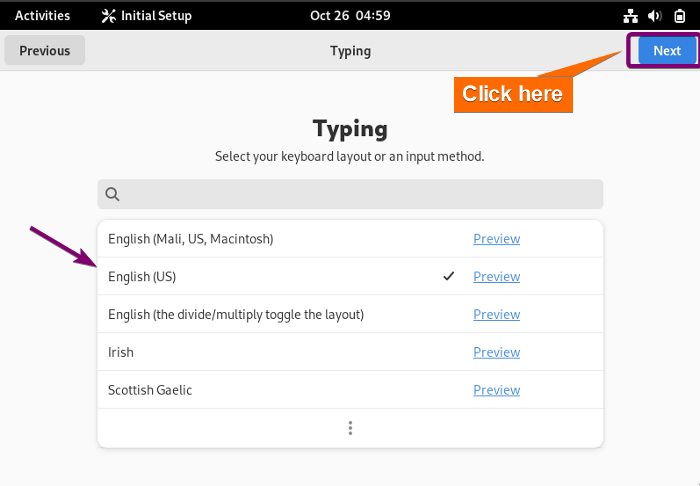 From the privacy settings window, on/off Location Services according to your preference and click on Next. I'm leaving it turned ON.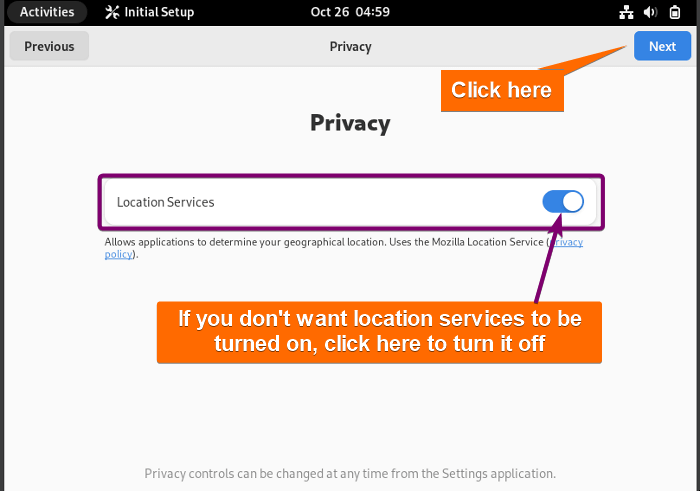 Now, you can connect your online accounts with your Debian system from the list marked in the below image. Or, you can skip this step by clicking the "Skip" button on the top right corner.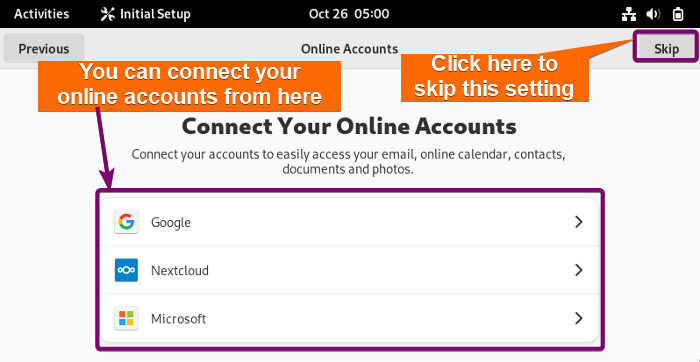 After that, click on the blue button titled "Start Using Debian GNU/Linux".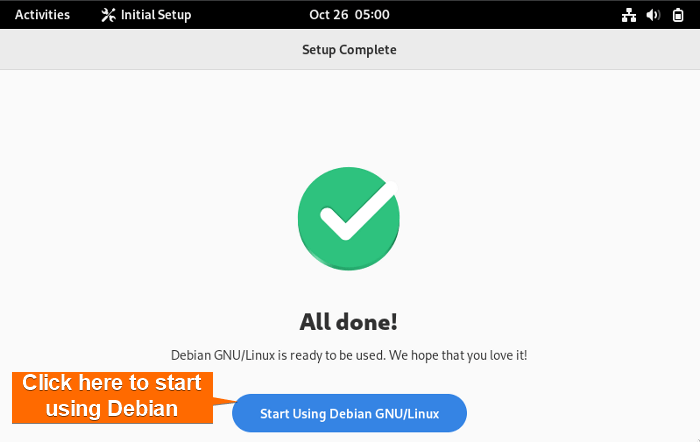 Finally, here is the desktop of your Debian operating system.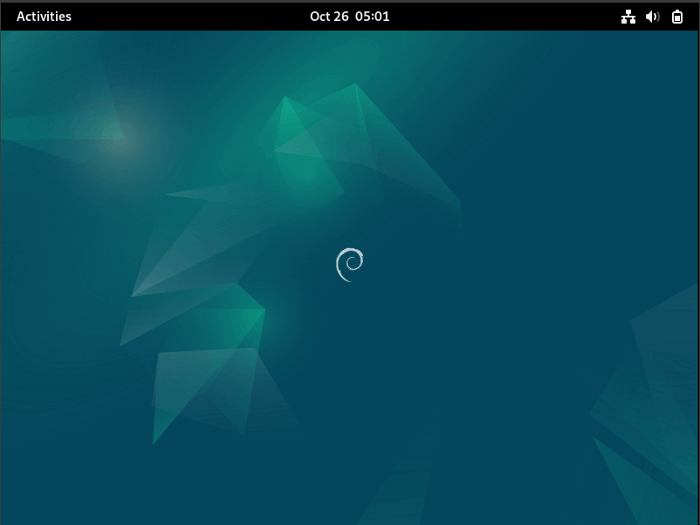 Congratulations! You have successfully installed Debian on your computer.
Advantages of Installing Debian
Debian provides its users the following advantages:
Stability: Debian is known for its rock-solid stability. It has a rigorous testing process, and new software versions are thoroughly vetted before being included in the stable release.
Wide Hardware Support: Debian supports a wide range of hardware architectures, making it versatile for various platforms, from desktops and laptops to servers, embedded systems, and more.
Package Management: Debian uses the APT (Advanced Package Tool) package management system, which is highly efficient and user-friendly. It simplifies software installation, updates, and dependency resolution.
Security: Security updates are provided promptly, and there's an active security team dedicated to ensuring the safety of Debian systems.
Long-Term Support (LTS): Debian offers LTS releases with extended support for up to five years or more. This is beneficial for organizations and users who require long-term stability.
Customizability: Debian allows for a high degree of customization by letting you choose your preferred desktop environment, software, and configurations to create a personalized computing experience.
Community and Documentation: Debian has a large and active community that provides support and documentation. You can find extensive resources, forums, mailing lists, and wikis to help you with any Debian-related issues.
Conclusion
Debian is a versatile and widely used Linux distribution that serves various purposes and use cases. However, remember to back up any important data on your computer before installing, as it involves modifying your disk partitions. The exact steps for installing Debian may vary depending on your hardware, but the general process are same for all platforms.
People Also Ask
Can I install Debian on Windows?
YES, you can install Debian by replacing Windows or run Debian alongside Windows by dual boot. The process comprises three fundamental steps. These include downloading a Debian ISO file, making a bootable device with the ISO file, and finally, proceeding to install Debian.
Is Debian free to install?
YES, Debian is free to use. It is a free and open-source operating system, and it is released under the GNU General Public License (GPL). This means that you are free to use, modify, distribute, and share Debian with others without cost. You can download and install Debian without any licensing fees, and you can modify the source code, redistribute it, and contribute to the Debian project if you wish.
What is Debian Bookworm?
Debian Bookworm is the development codename for Debian 12, a major release of the Debian operating system. Debian is known for using code names based on characters from the 'Toy Story' movies for its development branches. However, as a development codename, 'Bookworm' represents the unstable branch of Debian, where new packages and updates are introduced for testing and development.
Is Debian better than Ubuntu?
Both Debian and Ubuntu are popular Linux distributions, and they have their own strengths and characteristics. If you value long-term stability, are comfortable with a less frequent release cycle, and have expertise in Linux, Debian might be a better choice. On the other hand, if you prefer quicker access to the latest software, or if you're new to Linux, Ubuntu may be a better fit. Indeed, it's worth noting that Ubuntu is based on Debian, so they share many similarities.
Which is faster Debian or Kali?
The speed or performance of a Linux distribution like Debian or Kali Linux depends on various factors, including your hardware, the desktop environment or window manager you're using, and how you configure and use the distribution. Comparing, the speed of Debian and Kali Linux is fundamentally similar at their core.