In the rapidly evolving landscape of Virtualization, VMware's solutions have solidified themselves as top choices for users seeking effective and dependable virtualization tools. VMware Workstation Pro vs VMware Player is a commonly asked query. While VMware Workstation Player provides a no-cost solution for virtualization, VMware Workstation Pro necessitates a license, serving the requirements of advance.
Two of its popular offerings, VMware Workstation and VMware Player, have gained recognition for their efficient virtualization capabilities. This article comprehensively compares VMware Workstation Pro and VMware Player, delving into their key features, target users and usage scenarios.
What is VMware Workstation Pro
VMware Workstation Pro is a powerful virtualization software developed by VMware that enables users to run multiple operating systems on a single physical machine. It serves as a robust platform for creating, managing, and developing virtual machines, making it a popular choice among professionals, developers, and businesses. With advanced features such as snapshotting, virtual networking, and support for various operating systems, VMware Workstation also facilitates tasks like software development.
The interface of VMware Workstation Pro looks like this: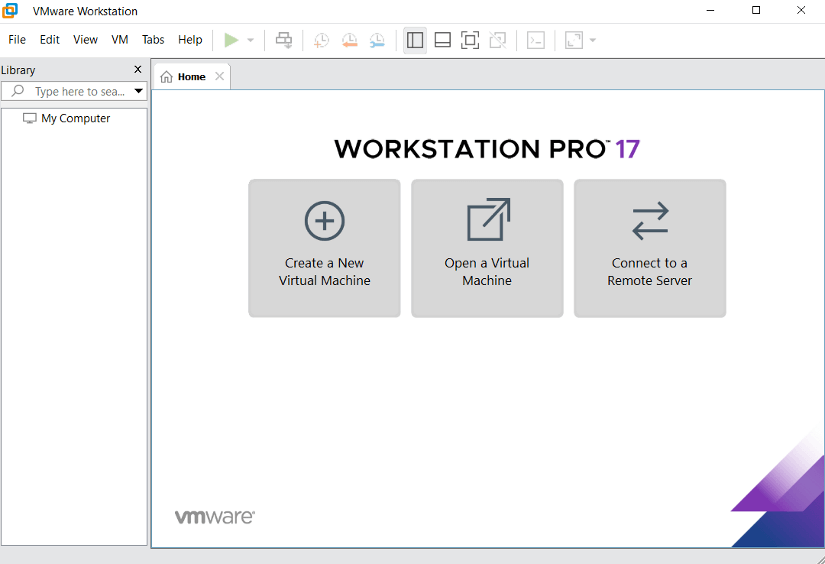 What is VMware Player
VMware Player is a software application developed by VMware that allows users to run and evaluate multiple virtual machines on a single physical machine. It's a type 2 hypervisor, enabling users to create, run, and share virtual machines with ease.
While it's not as feature-rich as VMware Workstation, VMware Player is designed to provide a user-friendly and accessible virtualization platform, making it an ideal choice for individuals, students, and non-commercial users. It is often used for running pre-built virtual machines or creating basic virtual environments.
VMware Player is available as a free version for personal use, offering a simplified interface and essential virtualization capabilities without the complexities associated with advanced virtualization tools. The interface of VMware Player looks like below: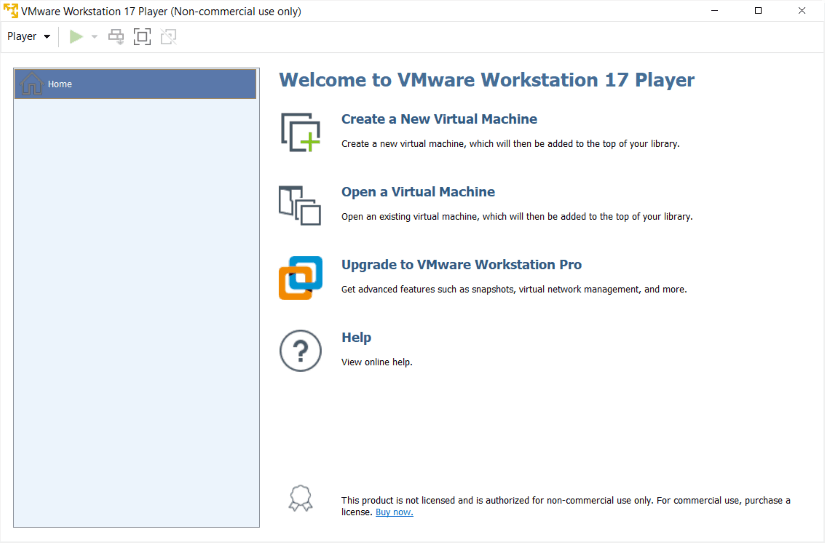 Difference Between VMware Workstation Pro vs VMware Player
Before diving deep into the differences, here is a brief comparison between VMmware Workstation Pro and VMware Player in tabular format.
| | | |
| --- | --- | --- |
| Aspects | VMware Workstation | VMware Player |
| Operating System | Windows, Linux, macOS | Windows, Linux |
| Virtual Machine Support | Multiple VMs simultaneously | Limited VM capabilities |
| Networking | Complex Network configurations | Basic networking features |
| Snapshotting | Advanced snapshot management | Limited snapshot functionality |
| Cost | Commercial product with pricing | Free for non-commercial use |
| Target Audience | Professionals, businesses | Students, Personal users |
| Technical Support | Comprehensive Support | Limited Support |
| Integration | Development environment integration | Simplified interface |
This table briefly compares the most significant aspects of VMware Workstation Pro and VMware Player. All of this has been explained below in detail.
System Requirements to Run VMware
Both VMware Workstation Pro and VMware Player are designed to work on a system which requires
CPU of 64 bit or x86 Intel or AMD processors with SSE2 support.
The system also requires 1.3GHZ or faster core speed and 1.2GB free disk space for both applications. But in the case of RAM, the requirement differs.
In the case of the RAM of the system, the minimum RAM has to be as below.
VMware Workstation Pro: Minimum 2GB RAM ( 4GB recommended).
VMware Player: Minimum 4GB RAM (8GB recommended).
OS Support Suggestion for VMware
VMware Workstation Pro: It provides comprehensive support for a wide range of operating systems including Windows (Windows 10, Windows 8, Windows 7 Windows server editions and more), macOS (as a guest OS on Apple hardware), and Linux (Ubuntu, Red Hat, CentOS, and other popular distributions).
VMware Player: It's more limited in terms of the operating systems it can run. Certain versions of Windows (primarily client versions like Windows 10, Windows 8, and some other earlier versions) and several distributions of Linux.
Virtual Machine Snapshots
VMware Workstation Pro: VMware Workstation entirely supports creating and managing virtual machine snapshots.
VMware Player: The free version of VMware Player has limited support for virtual machine snapshots.
VMware Licensing
VMware Workstation Pro: VMware Workstation operates on a commercial licensing model, with both a paid pro version and a trial version available for users to test the software before purchase.
VMware Player: VMware Player is available as free for personal non-commercial use. It lacks some of the advanced features available in VMware workstations, such as snapshot support and cloning. Making it more suitable for basic virtualization needs personal use.
Limitations of VMware
VMware Workstation: VMware Workstation, being a professional virtualization software, has  fewer inherent limitations compared to VMware Player.
Resource constraints are based on the host machine's hardware capabilities, such as CPU, RAM, and storage limitations.
The number of virtual machines that can be run simultaneously may be constrained by the host system's resources.
VMware Player: VMware player, being a more basic and free version of VMware's virtualization software, has certain limitations including:
Limited virtual machine management capabilities, with the inability to create complex virtual machine configurations compared to VMware Workstation.
Lack of advanced features like snapshot support and cloning, which can limit its usefulness for more complex use cases.
Comparison of Features between VMware Workstation Pro and VMware Player
This table gives a brief overview of the key differences between VMware Workstation Pro and VMware Player, focusing on their respective features and capabilities.
Category
Features
VMware Player
VMware Workstation
General
Create New VMs
Yes
Yes
Create Large VMs (16CPU, 64GB RAM)
Yes
Yes
Over 200 Supported Guest OSs
Yes
Yes
Mass Deployment
Yes
Yes
Host/Guest Integration
Host/Guest File Sharing
Yes
Yes
Run VMs with Different View Modes
Yes
Yes
3D Graphics with DX10.1 and OpenGL 3.3 Support
Yes
Yes
Draggable Tabbed Interface
No
Yes
One-Click SSH
No
Yes
Device Support
4K Display support
Yes
Yes
Support a Wide Range of Virtualization
Yes
Yes
USB Smart Card Reader Support
Yes
Yes
USB 3.0 Device Support
Yes
Yes
Work with Assistive Devices (Section 508 compliant)
Yes
Yes
Multi-Language Keyboard Support
Yes
Yes
Advanced Features
Run Restricted Desktop
Yes
Yes
Rest API Control
Yes
Yes
vCenter Server Appliance Effortless Deploy
Yes
Yes
Command Line Operation: 'vmrum'
Yes
Yes
Snapshots
No
Yes
Run Multiple VMs at Once
No
Yes
Run Encrypted VM
No
Yes
Virtual Network Customization
No
Yes
Virtual Network Simulation
No
Yes
Shared Virtual Machine
No
Yes
Connect to vSphere/ESXI Server
No
Yes
Remote vSphere Host Power Control
No
Yes
Selecting between VMware Workstation Pro and VMware Player largely depends on the user's specific virtualization needs and technical requirements. For professionals, software developers, or users requiring advanced virtual machine management, networking configurations, and complex testing environments, VMware Workstation Pro is the ideal choice. On the contrary, for individual users with basic virtualization needs for those seeking to run a single virtual machine for academic and educational purposes, VMware Player servers as a simple and accessible option.
Conclusion
In conclusion, the VMware Workstation Pro vs VMware Player highlights their distinct roles in the realm of virtualization. While VMware Workstation stands out as a comprehensive tool catering to the diverse needs of professionals, VMware Player serves as an accessible platform for individuals seeking basic virtualization capabilities. By considering the differences outlined in this article, users can make informed decisions when selecting the appropriate VMware virtualization software.
People Also Ask
What is the fastest VM?
Determining the fastest virtual machine (VM) involves various factors including the virtualization software, the host hardware, and the specific workload being run. While VMware, KVM, and Hyper-V are recognized for their performance. The actual speed can vary depending on the specific configuration and use case.
Which processor is the best for VMware?
The ideal processor for VMware virtualization would typically have strong multi-core performance, high clock speeds, support for hardware-assisted virtualization and advanced security features. Intel Xeon and AMD Ryzen and EPYC series processors are popular choices for their robust performance.
Is Hyper-V better than VMware?
Neither Hyper-V nor VMware directly competes with the other; instead, their performances excel in various scenarios, depending on specific cases. Hyper-V is a native hypervisor developed by Microsoft and is integrated into Windows Server and some Windows operating systems. It's often preferred in Windows-centric environments for strong integration with Microsoft technologies and cost-effective licensing for windows-based virtualization.
VMware, on the other hand, offers a range of virtualization products including VMware vSpeher, VMware Workstation, and VMware Fusion. It also offers catering to various enterprise and personal virtualization needs.
Is there any performance difference between both versions of VMware?
Yes. There can be performance differences between different versions of VMware. Newer versions often come with performance optimizations, better hardware compatibility, and enhanced virtualization capabilities. leads to overall better performance compared to older versions.
Does the VMware Workstation tool support VM cloning?
Yes, VMware Workstation Pro offers the capability of the VM cloning. It allows users to duplicate a virtual machine from the existing one or a snapshot. However, this functionality is not accessible in VMware Workstation Player.
What applications can run on virtual machines?
You can operate any software on virtual machines, as virtual machines function like typical PCs with no restrictions. Each virtual machine possesses its own hardware, including CPU, RAM, and storage, enabling the seamless operation of various applications.
Related Articles
---
<< Go Back to Virtual Machine Installation Guide | Linux OS Installation Guide | Learn Linux Basics