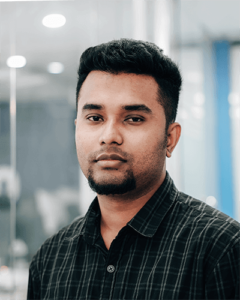 Designation
Project Manager, SOFTEKO.
Resides in
Dhaka, Bangladesh.
Education
Bachelor of Science (BSc.) in  Electronics and Communication Engineering, Khulna University of Engineering & Technology (KUET).
Expertise
Linux, WordPress, Search Engine Optimization, Microsoft Excel, Google Sheets, and Management.
Summary
Experience
During my university years, I consistently sought to engage myself in various creative pursuits besides my academic curriculum. Alongside my studies, I dedicated my time to filmmaking, music composition, and other artistic endeavors. My passion for photography led me to launch a website showcasing photographers' portfolios as part of an academic project. Additionally, I ventured into constructing a quadcopter to aid me in capturing aerial video footage for my film projects. Following my graduation, the onset of the novel coronavirus outbreaks left me feeling idle and unfulfilled. After approximately a year and a half of inactivity, I commenced my professional career as a Support Engineer at Pran RFL Group in Bangladesh. However, this role did not align with my long-term aspirations, prompting me to resign after three months. Subsequently, I joined ExcelDemy as an Excel and VBA Content Developer, an opportunity that revitalized my sense of purpose after a prolonged period of stagnation. I discovered immense satisfaction in creating resources that could potentially benefit others. During this phase, I dedicated myself tirelessly to honing my skills and expanding my knowledge. Eventually, I was assigned to launch LinuxSimply, a project aimed at providing guides and tutorials to assist Linux users worldwide. Presently, I am delighted to serve as the Project Manager of LinuxSimply, one of Softeko's portfolio sites.
Follow On
No posts found by author ID 314885